Case Study: Fun Conference 2017
Brewed something fun, exciting and memorable for 1000 Toastmasters. Toastmasters International is a world leader in communication and leadership development.
It has been a beautiful journey to be part of the Fun Conference Team. Thanks Nora Bamadhaj for inviting me to come out with the full event branding for Fun (Fresh, Unique and New) Conference, 27-28 May 2017. Thanks for believing and having the trust in me.
It was all started in Sept 2016 when we were still contemplating if we want to reach out to the usual group of 300 toastmasters or to impact 1000 of toastmasters. The Fun team finally decided to take on the "1000 toastmasters" challenge. There were many doubts as no one has ever done it before. Magic happens when Fun team starts to believe that we can do it.
When Nora came to me and she just said, "I need a fun theme for the event." The rest is history. I helped to conceptualise by crafting how this event visuals should look like. It's more than just putting things together but to create meaning.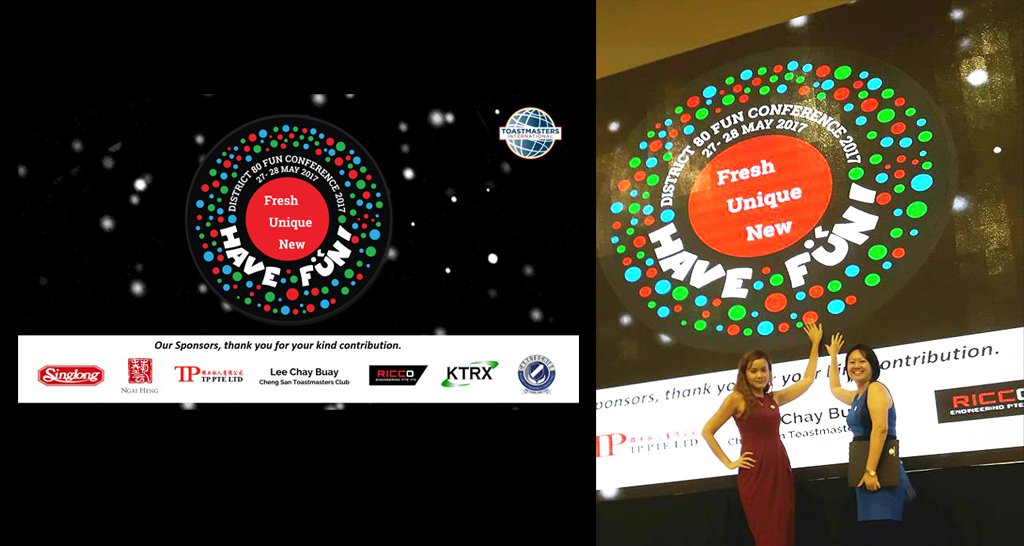 The BIG Idea
The big idea is to connect with people and create the resonance. Circle has the meaning of timeless, wholeness and unity. Using key colours of red, blue and green to bring out the vibrancy of the event. Working on the typography that suits the event. Add on the Winking Emoji as element of fun.
Do you know…
Fun Conference logo wasn't the first visual I created? It was the flyer to promote the event. That is the only marketing tool they had. The marketing team had to go club to club to promote it. Thanks for the efforts, they had done well. Within 4 months, we sold 600 tickets. Later on, I came out with tickets, paper bags and other marketing and digital materials.
Feeling blessed and joyful to be able to work with Tiam Teang and Nora. Both of them are great leaders.
"This Fun Conference event brought out the best version of us and we work with open communication and understanding." – Rachel Won
I have helped in the conference's branding and received positive feedback. The credit doesn't go to me alone but the entire committee have been putting in lots of effort and making it happens. Success is a group of people, who support together. When everyone does our part coherently, magic happens ?
Fun Conference is not only touching the lives of 1000 toastmasters but many more because we will impact more people around us.
#FunConference2017 #EventBranding
Educate Featured Project: Cold Storage on Design Thinking Process By Rachel Won / 11 May 2020 / Tags: Featured Projects Brief: UX Improvement of the self-checkout kiosk at Cold Storage, a premium supermarket website to create a better experience for the consumers. It...
Educate Featured Project: NUS Advisory on Convid-19 Precautionary Measures By Rachel Won / 30 Mar 2020 / Tags: Featured Projects NUS Advisory board has put in place a set of precautionary measures to keep their students and staff safe and healthy and to better...
Want to find out more about what services we provide?
Schedule an appointment with us.