Featured Project: Cold Storage on Design Thinking Process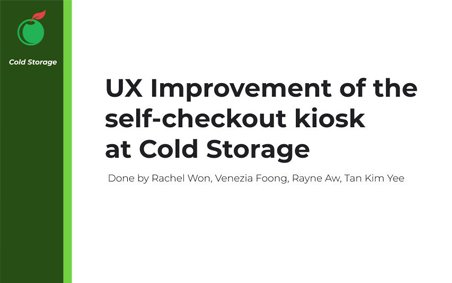 Brief: UX Improvement of the self-checkout kiosk at Cold Storage, a premium supermarket website to create a better experience for the consumers. It is able to cater for the residents of Singapore and bring greater savings and convenience for their customers.
I am thankful to have an opportunity to work with my design team, Kim Yee, Venezia, Rayne in May 2020.
Instead of completing the usual design development, I will be going through our research and improvement process of the user experience of Cold Storage's self-checkout kiosk.
Click here to read more. 6 mins read.
There are a few reasons why we use paper prototypes for this project.
1. They are useful to test initial ideas early and quickly
2. Design is not constrained by the characteristics of existing devices
3. Focus on the important things
4. They can be quickly modified, even during a session
5. They make collaborative design easier and they are fun
Despite being easy and quick to put together, paper prototypes pose an interesting challenge for UX Designer, who will need to explain the context clearly, play the role of a computer supplying screens and dialogs and intervene to answer doubts.
They are however ideal to get valuable insights on initial design ideas, without spending much and without relying on existing devices. And more importantly, they can be as fun to test as they are to create.
#RWDC #Redesign #UserFlow #PaperPrototype
Educate What is UI & UX Design? By Rachel Won / 5 Aug 2019 / Tags: Design Insights UI design and UX design are two of the most often confused and conflated terms in web and app design. And understandably so. They're usually placed together in a single term, UI/UX...
Want to find out more about what services we provide?
Schedule an appointment with us.