As a Creative Designer, creating visuals is just like brushing my teeth every day. Visual Design / Visual Communication aims to shape and improve the user experience through considering the effects of illustrations, photography, typography, space, layouts, and color on the usability of products and on their aesthetic appeal. In my own words, beautiful, purposeful design that communicates or relates to people.
I thought of sharing light-hearted content today.
Do you know that we don't see with our eyes?
There's a reason why human eyes are the prototypes of cameras.
They only let the light in through the pupil, which leads to forming an upside-down image.
It has to be turned around.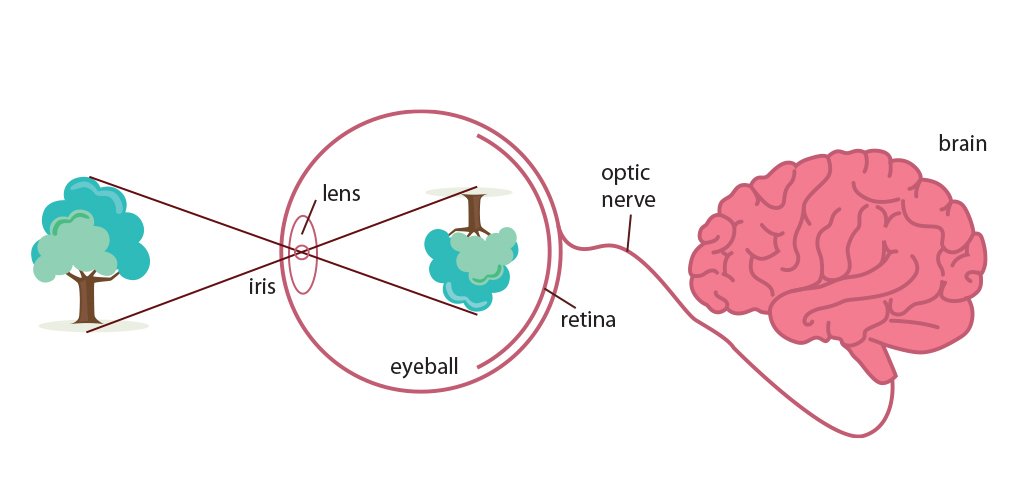 The brain does that and allows us to see everything as it is.
Furthermore, the visual information we perceive is being processed by the brain.
Therefore, we only observe with the eyes, but literally, see with our brain.
That makes sense because the hierarchy must be kept – the brain is the most complex organ in the body.
The eyes are on the second place. Besides, our brain is constantly engaged by the eyes.
"More than 50 percent of the cortex, the surface of the brain, is devoted to processing visual information." – Williams, the William G. Allyn Professor of Medical Optics.
Sometimes we just take our body for granted until something bad really happened and we regretted it. It will be just too late!
I appeal to you: Be proud of your eyes!
Take good care of them and don't forget to be grateful – Thanks to our beautiful eyes, we get to enjoy the wonderful world around us. Recently, I shared a video on 22 Feb, about a man who is a color blind and finally he is able to see the colors of the world with immerse joy.
#Infographics #Illustration
Educate What is UI & UX Design? By Rachel Won / 5 Aug 2019 / Tags: Design Insights UI design and UX design are two of the most often confused and conflated terms in web and app design. And understandably so. They're usually placed together in a single term, UI/UX...
Want to find out more about what services we provide?
Schedule an appointment with us.