When to use which UX Research Methods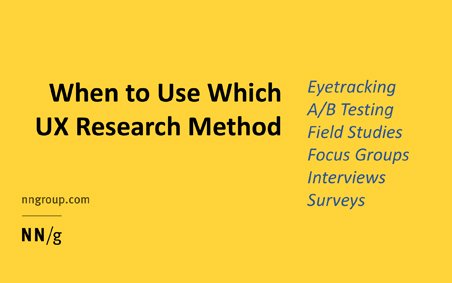 There are a few criteria to consider, they help to choose which methods to use
• Watch users do their things
• Ask users questions
Research can be done in
• Behavioral and observed by researcher
• Self-reported by the user (Attitudinal)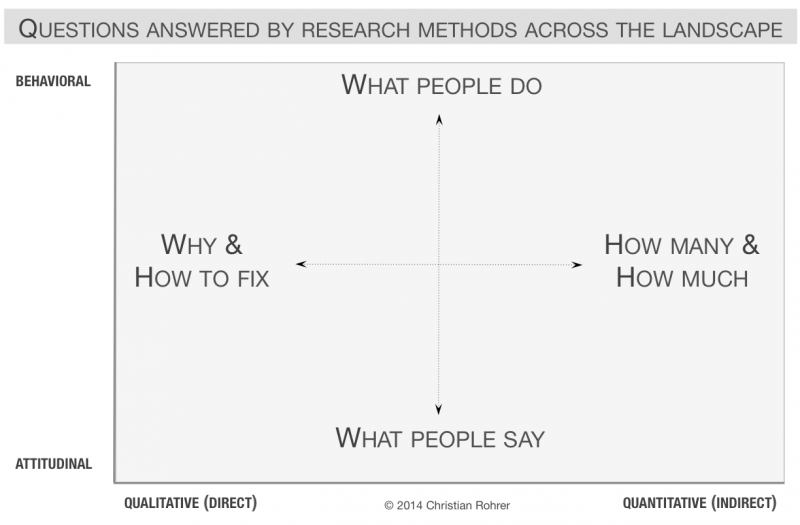 When to use which UX Research Method?
1) When your research questions have to do with
a. What people do
b. Whether something discoverable, finable, understandable, usable, it is most informative to observe this
Method: Usability testing
2) In very early stage of design process
a. Sketches / Wireframes
b. You can still observe usage by giving people tasks to do with paper sketches
Create high fidelity, dynamic, clickable prototype to test
Have design concepts, tempting to show it to users and ask them what do they think
Direct users to try and do something
When you need to know what the user has to say, whether they like / dislike something
Method: Self-report methods like interviews, surveys, focus groups
3) Research relates to numbers / stories or quantitative / qualitative
a. Goal: Compare products / designs to get benchmarks to which the future design will be compared, or to compute expected cost savings from design changes, you will use
Method: Quantitative
Start about 20 users and increase numbers depending on the desired confidence internal and statistical significance.
Card sorting (20 Users)
Eye tracking / heatmaps (40 Users)
Tree testing (50-100 Users)
Quantitative usability testing (>20 Users)
Web analytics, A/B Testing, multivariate testing, required more users and surveys always need many more respondents
Qualitative Testing are used to quickly and cheaply learn, can iterate the design and improve as much as possible before releasing it.
Very early prototypes can be usability testing with 2 target users. Make the change based on what we observed and test with another 2 more target users.
4) Tangible or not
Study people who has no design at all.
We want to learn how people work and live.
Method: Field Study
When we go to users and observe their daily activities, care about user behaviour / ease of use of the product/services.
What to do longer study: Diary studies (Journal / Ask a series of questions), Surveys, Video Journals, Camera Study (People record themselves at certain times)
5) Context
Situational Data that comes from uses' location
• Field study: Go to user's office, home, or other site
• Remote usability test: Live, online intercept study gives a small amount of context and that catches the user while he/she is actually attempting a task on your website
• Researchers intercept a person's life at a place like coffee shop / mall. These studies can be very short and are okay to do in a chaotic setting.
• Lab studies: Option for a controlled environment, you can make the absolute most of the precious time you have with your users.
"The success of your work will be determined by how much impact it has on improving the user experience of the website. These classifications are meant to help you to make the best choice at the time." – Rachel Won
Phrases of Product Development (The Time Dimension)
Strategize (Qualitative and Quantitative)
Inspire, explore and choose new directions and opportunities
Execute (Qualitative)
Inform and optimize designs in order to reduce risk and improve usability
Assess (Quantitative)
Measure Product Performance against itself / its competition
Educate What is UI & UX Design? By Rachel Won / 5 Aug 2019 / Tags: Design Insights UI design and UX design are two of the most often confused and conflated terms in web and app design. And understandably so. They're usually placed together in a single term, UI/UX...
Want to find out more about what services we provide?
Schedule an appointment with us.