Why Personas fail and how to make credible Personas
Personas are frictional characters. Create credible personas help to understand your users' needs, experiences, behaviors and goals. Generally, you just need to create 3-8 personas depends of your target groups.
Let's us look into why some personas fail?
1) Due to lack of understanding
People do not know what personas are or why they are helpful
2) Personas are not 8.5 x 11 handouts (Representations of Persona)
Get Personas off the paper and into minds of colleagues. Personas needs to be natural and organically referenced in every discussion and decision that is made.
3) Personas are generalizations, not a perfect science.
They are best guest of the key users type to focus on in design. However, it is a best guess based on research and analysis, not create from the nothing.
Here are some of the challenges:
1) Researchers and stakeholders who don't understand this/uncomfortable with relying on generalized themes tends to be skeptical of their validity. This lack of buy-in makes them impossible to be successful.
Advice: Important to take time upfront, to help your stakeholders understand what exactly personas are and how they can be helpful to your projects, even though it may not be an exact science.
2) Stakeholders have inaccurate expectations about how the personas will influence work. Stakeholders often want to get the most bang for their bucks, they ask for very broad personas that can cover a large array of products and services.
Advice: Broad personas lack of data actionable for specific design projects, only include high level data. Great for general decision making but they are not terribly useful for designing for specific features or work flows in specific products.
Important to understand what stakeholders' goals are. Consult the stakeholders about their needs and recommend the right tools for the job. Set appropriate expectations regarding how the personas they request will be effectively used.
3) Team members have uncertainty how the personas can be used on a project.
Advice:
• Don't reveal like a piece of artwork
• Help the team to understand the benefits of personas and refer personas to them often in design discussion
• Give stakeholders ideas for how to use personas in a more practical sense.
4) Don't create Personas in private.
Advice: Personas are often created alone and impose others to use personas.
Delivering in this way, are rarely effective. People are always apt to be skeptical
of something if they don't know where it came from or how it was created. Stakeholders should always be involved in the creation process so that they can see how research was done, they can understand how these personas themes were derived.
Include stakeholders in the process to build buy-in. This ensures that end users are more invested in the personas where they're complete.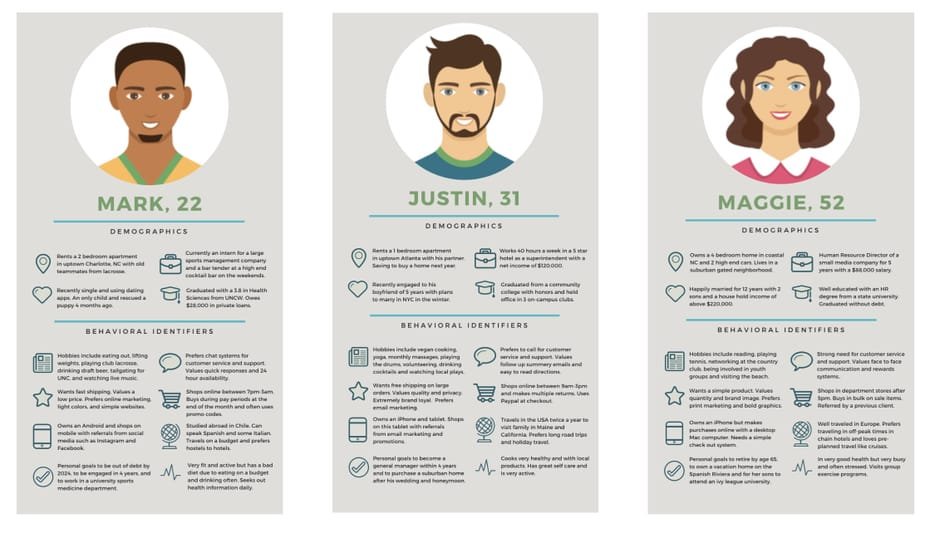 Ways to create valued, credible personas in UX Research
• When create your personas, look at the data gathered at the discovery design stage ie mainly user interviews
• Identify the pattern, once you gather the data to analyse. It is time to identify the trend.
• Create the persons: Frictional Name, Nature of the Job, Lifestyle, Behavior Pattern, List out their goals, needs, motivation, expectations, pain points. with this information, personas become alive and realistic.
• Educate the Shareholders about creating personas how they can use in practical way
• Do not create personas in private, engage the shareholders and make sure they are involved in the creation process so that they can understand how themes are being derived. This is to build and increase buy-in
• When we create the Personas, they have to be natural, gather the information from qualitative data about our users, finding patterns to identify the trends.
Educate What is UI & UX Design? By Rachel Won / 5 Aug 2019 / Tags: Design Insights UI design and UX design are two of the most often confused and conflated terms in web and app design. And understandably so. They're usually placed together in a single term, UI/UX...
Want to find out more about what services we provide?
Schedule an appointment with us.