RWDC Rebranding: RWDC gives corporate identity a new facelift
By Rachel Won / 16 Mar 2020 / Tags: Branding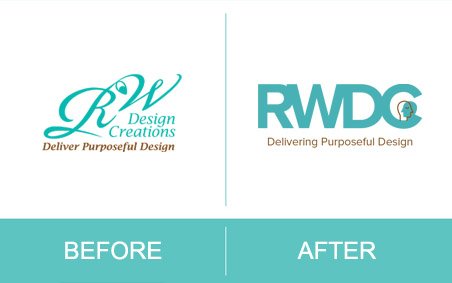 RW Design Creations has been around for 7 years, starting from 3 Mar 2020, the existing Logo is no longer in use as it doesn't represent properly to the new marketing strategy.
I have rethink about my company's future plans and strategy. Having an evolved logo allows me communicate effectively on the new ideas and focus of my design company. Yes, I am evolving and changing to keep up with times, the social media, the modern world. Hence, I need to ensure my company logo is adapting to these changes.
I believe corporate logo needs to bring out the essence of the company. A logo identifies a business in its simplest form via the use of a mark or icon. It is the heart of the Brand.
Here is my meaning for RWDC New Brand Logo:
Changed the fonts to modern type font to give a cleaner and more contemporary feel to the brand. Letter 'C' to RWDC represents Creativity, Communication and Clarity. The empathy Icon in Letter 'C'. Remind ourselves to build empathy in our design projects, so that my designers and I are able to deliver purposeful design for the users.
Colors remains the same as it gives a continuous flow to the brand of the company.
Turquoise, a blend of the color blue and the color green, has some of the same cool and calming attributes. The turquoise color is associated with meanings of refreshing, calming, creativity.
Brown, the color of earth. It is a natural, neutral color. It gives wholesomeness, security, and warmth attributes. The brown color is associated with meaning of stability, reliability, and approach-ability.
By using Turquoise and Brown family, they complement and support each other very well.
How the brand logo translates to other branding materials.

Namecard with clearer identity and purpose
Website with a clear structure and integrated with marketing and sales driven purpose
There are a few reasons why a logo needs to re-brand. You don't have to rebrand your logo all the time. A well-designed re-branding can last you easily 5-10 years' time if the designer has designed effectively. You can read this article: When do you need a Rebranding 🙂
#RWDC #Rebranding #RebrandIdentity #CorporateBranding
Educate What is UI & UX Design? By Rachel Won / 5 Aug 2019 / Tags: Design Insights UI design and UX design are two of the most often confused and conflated terms in web and app design. And understandably so. They're usually placed together in a single term, UI/UX...
Want to find out more about what services we provide?
Schedule an appointment with us.